EXPERIENCE EXCEPTIONAL AT

REVOLUCIÓN DE CUBA

You can now find Neptune Rum Barbados Gold at Revolución de Cuba rum bars and cantina around the UK.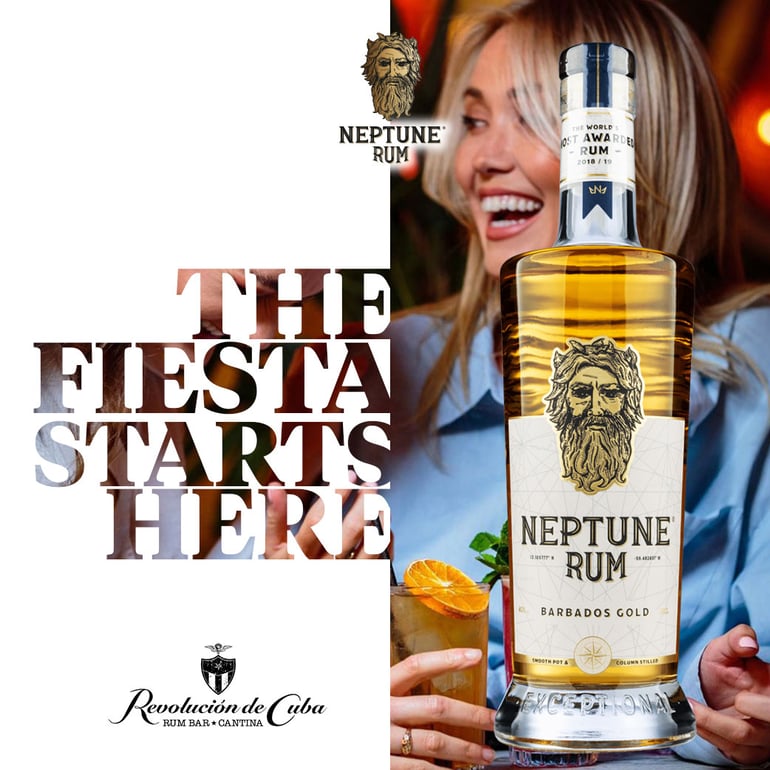 RUM IS THE LIFEBLOOD OF CUBA
Shaped by the island's history, people, geography, cuisine and climate, rum is the lifeblood of Cuba.
Thanks to prohibition in the States, swathes of American tourists were flocking to Havana in huge numbers, seeking hedonism in warmer climes. The local Cantineros developed their own cocktail style, to create classics like the Daiquiri, the Cuba Libre and the Mojito.
The island's reputation grew – and soon, rum, became an emblem of this party nation, was associated with escapism all over the world. To this day, Cuban rum cocktails remain some of the world's favourite tipples.
You can now find Neptune Rum Barbados Gold at Revolución de Cuba around the UK where you can find unique, expertly made cocktails and Latin-inspired food, with amazing music and live entertainment. Feel-good Cuban vibes all year round!
UPGRADE YOUR COCKTAIL
You can now upgrade your Rum to Neptune Rum as a Mojito, Daiquiri or Old Fashioned and can find Neptune Rum on the "Rich and Flavoursome" section of the rum wheel.
LOCATIONS
You can find Revolución de Cuba at the following locations around the UK.
Aberdeen, Belfast, Birmingham, Bristol, Cardiff, Derby, Glasgow, Harrogate, Leeds, Liverpool
Manchester, Milton Keynes, Newcastle, Norwich, Nottingham, Reading, Sheffield, Southampton
Neptune Rum is focussed on creating exceptional quality rums from Barbados and the Caribbean – The birthplace of Rum.
By combining the finest natural ingredients, centuries-old distillation methods and tropical aging, our rums deliver an exceptional drinking experience. Due to our focus on exceptional quality and natural ingredients, our rums have earned their place amongst the world's greatest rums with over 70 global awards.
We take our name from Neptune, god of the oceans, and are committed to raising awareness of the natural beauty of our oceans and funding environmental action projects around the world.