NEPTUNE RUM BARBADOS GOLD WINS GOLD FOR ANOTHER YEAR
Neptune Rum has been awarded its fourth Gold award for Barbados Gold at the San Francisco World Spirits Competition 2021 in the Gold/Dark rum category.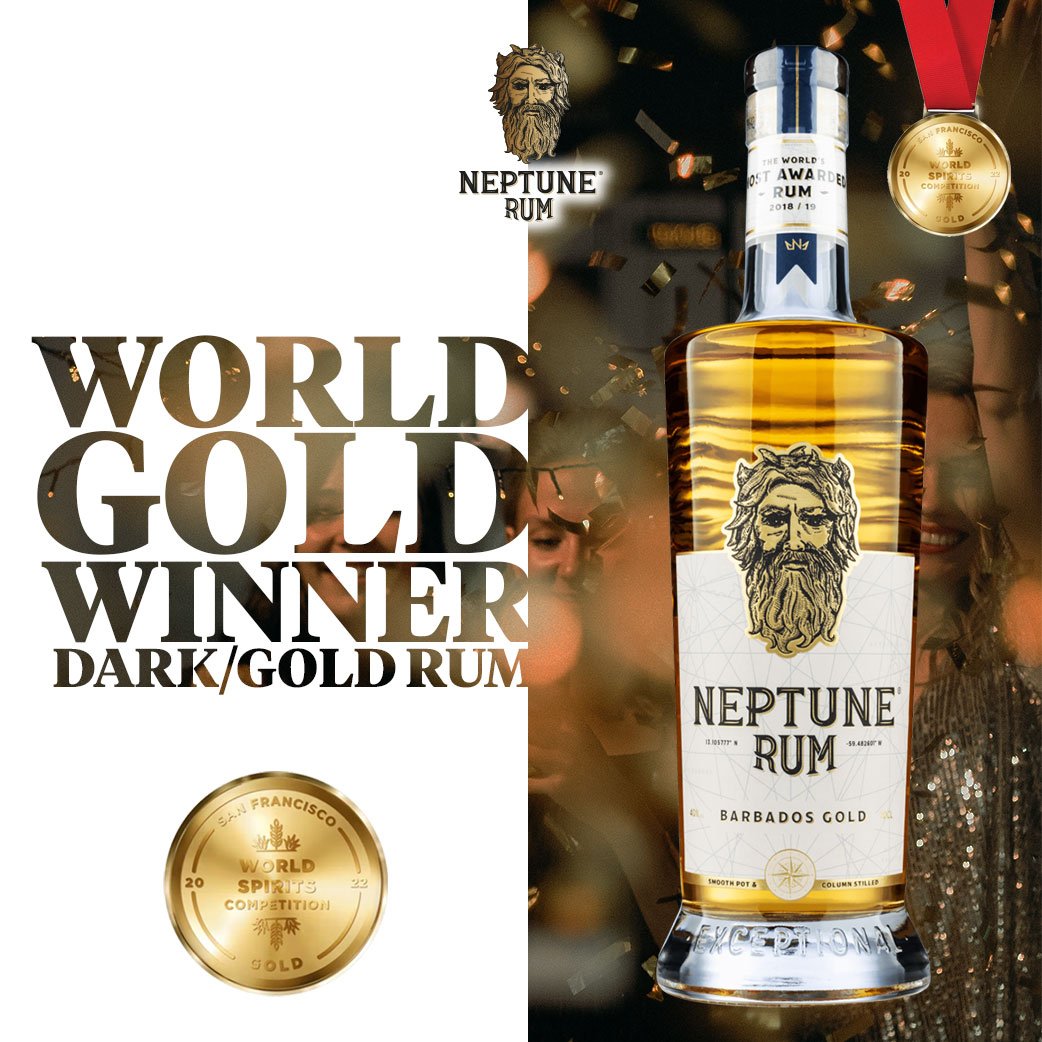 Neptune Rum Barbados Gold lived up to its name taking gold in the Gold in the Gold/Dark Rum category. Founded in 2000, the San Francisco World Spirits Competition is the oldest and largest competition of its kind.
The Tasting Alliance Competitions are considered the most influential for a reason. Earning a medal from the organization not only helps brands enter and stand out in the U.S. and international markets but is a critical next step for any producer to earn recognition in the industry and with consumers.
"Each year's results are closely followed, both by consumers eager for the expert judgements and more importantly by the trade, especially the distributor community. Many a craft distillery startup has found that recognition by the SFWSC is the golden key to unlocking broad national, and often, international distribution. Even established producers look to the SFWSC for confirmation of their core ranges, as well as validation of new products and new production techniques."
On the recent win, Lewis Bowen CEO of Neptune Rum says:

"We are thrilled to have picked up our fourth Gold award for our Neptune Rum Barbados Gold at the San Francisco World Spirits Competition. This is our fourth year of entry, and being awarded gold every year is testimanent to this exceptional rum highlighting its pedigree."
Neptune Rum Barbados Gold Neptune Rum Barbados Gold is one of the world's most awarded rums with more than 70 global awards. It is an exceptionally smooth pot and column stilled rum balanced with nuances of apricot, banana and coconut overlaid with soft hints of honey and vanilla.
It is made using sustainably sourced natural ingredients and comprises the finest 8, 5 and 3-year-old-rums.
Neptune Rum is committed to protecting the world's oceans, with sales of every bottle generating vital funds for projects that help prevent and clean up pollution and restore the Earth's oceans.
OVER 70 GLOBAL AWARDS
Find out more about our enviable list of awards, including Best British Rum Brand,
Best Barbados Rum, and Super-Premium Gold winners at The Rum and Cachaça Masters 2021.
ABOUT NEPTUNE RUM
Neptune Rum is focused on creating exceptional quality rums from Barbados and the Caribbean – The birthplace of Rum.
By combining the finest natural ingredients, centuries-old distillation methods and tropical aging, our rums deliver an exceptional drinking experience. Due to our focus on exceptional quality and natural ingredients, our rums have earned their place amongst the world's greatest rums with over 70 global awards.
We take our name from Neptune, god of the oceans, and are committed to raising awareness of the natural beauty of our oceans and funding environmental action projects around the world.