WORLD BARTENDER DAY
Neptune Rum is delighted to be paying homage to the mighty bartender. World Bartender Day takes place every year on February 24th and celebrates the mighty bartender, one of the world's oldest professions.
Sadly due to COVID-19 many bartenders are currently unable to work, however we would still like to pay tribute to bartenders to around the world with their unique talents and creations.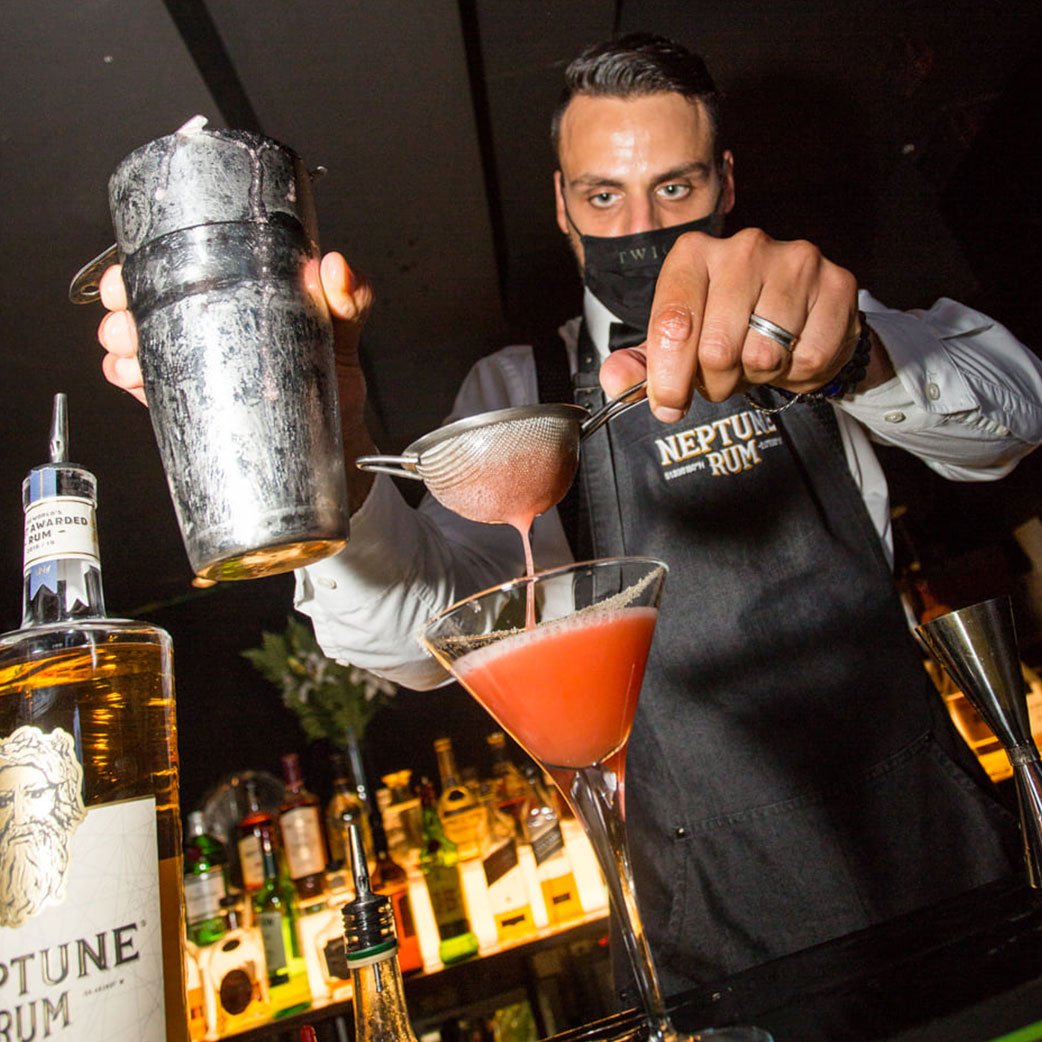 THE LIFE AND SOUL
The lifeblood and soul of a bar is its bartenders. These individuals are tasked with not only making delicious drinks but also serving as ambassadors to the public - providing a friendly face and a welcoming demeanor to make customers feel at home.
Many also go far beyond the call of duty by performing "flair." Some say flair bartending has been around since the late 19th Century, when a bartender called "Professor" Jerry Thomas tossed a fiery cocktail called the Blue Blazer in New York City, causing a sensation. Tom Cruise made flair bartending a household word in the 1980s hit Cocktail, and international flair competitions showcase bartenders competing for prizes and peer recognition.
Bartenders can perform everything from brain teasers and shaker juggling to magic. Repour's Isaac Grillo says that showing a customer a brain teaser or a trick is a great way to provide a bit of a distraction so he and his staff have time to make a cocktail properly.
THE HISTORY OF THE BARTENDER
While a bartender may seem like a modern profession, they have been around since the 1400s. Some of the first bartenders lived in Europe. They were innkeepers who served spirits and ales to their guests. In 1862, popular American bartender, Jerry Thomas, published The Bar-tender's Guide. It was the first drink book ever distributed in the United States. Even during the prohibition in the 1920s, bartending was a popular profession in the country.
WORLD DIFFERENCES IN BARTENDERS
Bartenders are often everyone's favourite person during a night out on the town. Experienced world travellers have noticed that bartenders are different around the world. Some of these differences include:
London bartenders know more about gin and gin cocktails than bartenders in other countries.
Australian bartenders offer some of the best customer service in the world as they love to interact with their customers.
German bartenders never use jiggers while Australian bartenders always do.
American Bartender are rebound for showing of their 'flair'.


WATCH THE NEPTUNE RUM MIXOLOGIST IN ACTION