FIVE
EXCEPTIONAL COCKTAILS TO MAKE WITH
NEPTUNE RUM CARIBBEAN SPICED
Get the summer feeling with these five fruity Spiced Rum cocktails. There is something for everyone to enjoy. Go on mix it up.
No matter if you are a seasoned pro or novice, these delicious summer-inspired cocktails are bound to get your creativity and taste buds going. Let's get started.
1. WATERMELON GINGERBEER CRUSH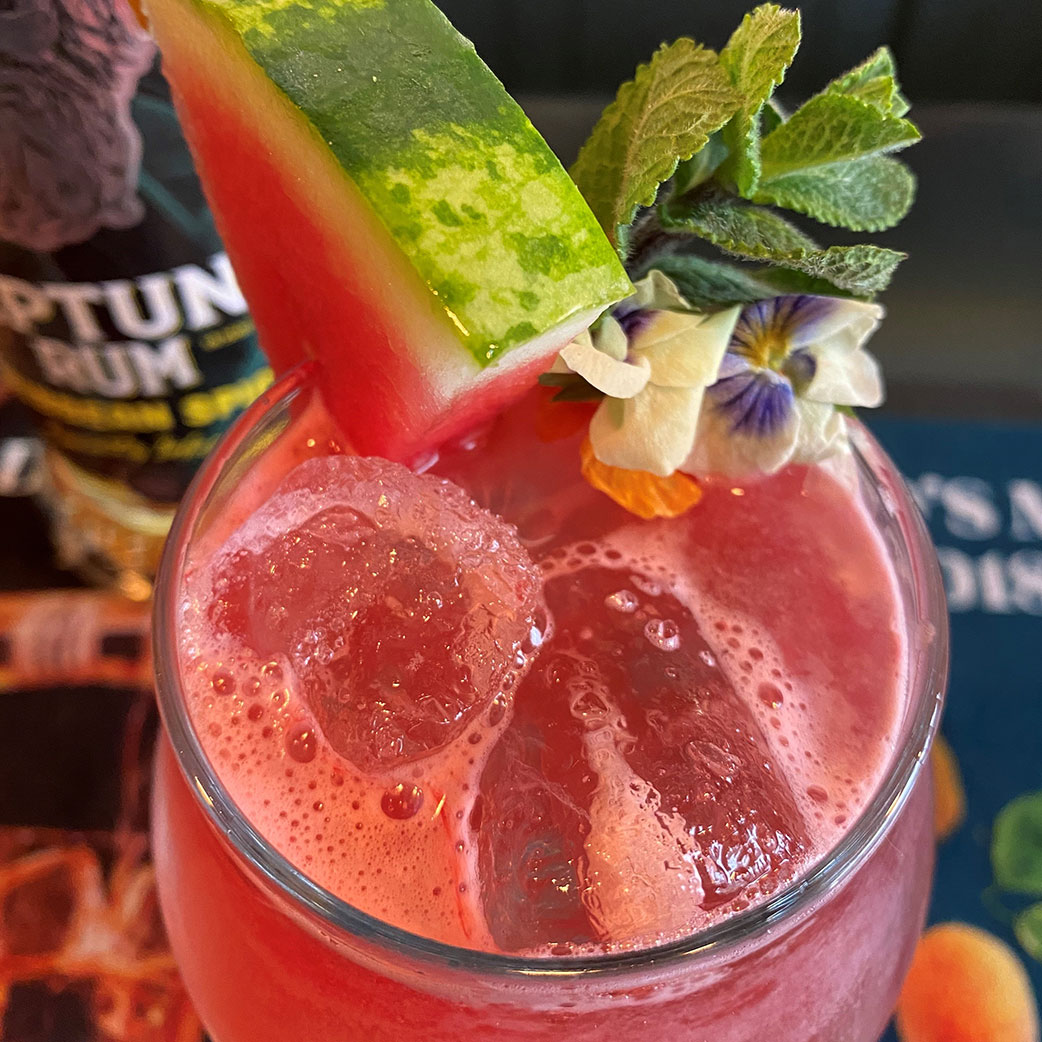 Ingredients
60ml Neptune Rum Caribbean Spiced
150ml Ginger Beer
50ml Watermelon Juice
Ice
Garnish: Fresh Watermelon & Edible Flower.

Method
Chop up about 1/8 of a water melon into fine pieces
Add to shaker with ice and shake hard for 20-30 seconds
Add rum and shake
Put ice and ginger beer into your glass
Strain into the glass onto the top to float
Decorate with garnish.
2. SPICED BLUE HAWAIIAN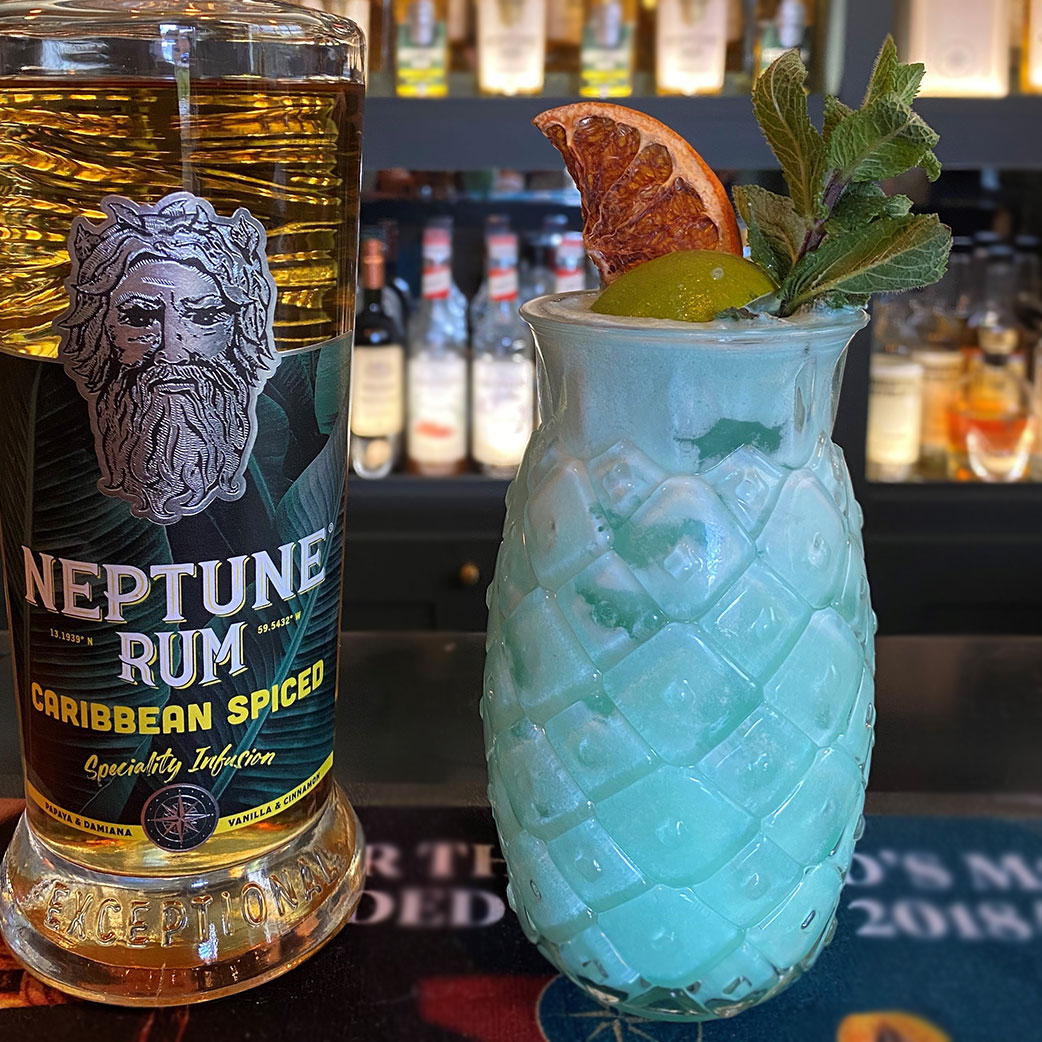 Ingredients
60ml Neptune Rum Caribbean Spiced
50ml Coconut cream
10ml Blue Curacao
15 ml Lemon juice
100ml Pineapple juice.

Method
In a mixer filled with ice cubes, pour the rum, blue curaçao, pineapple juice, and cream of coconut.

Stir well for about 30 seconds

Strain into a tall glass filled with fresh ice cubes

Decorate with garnish.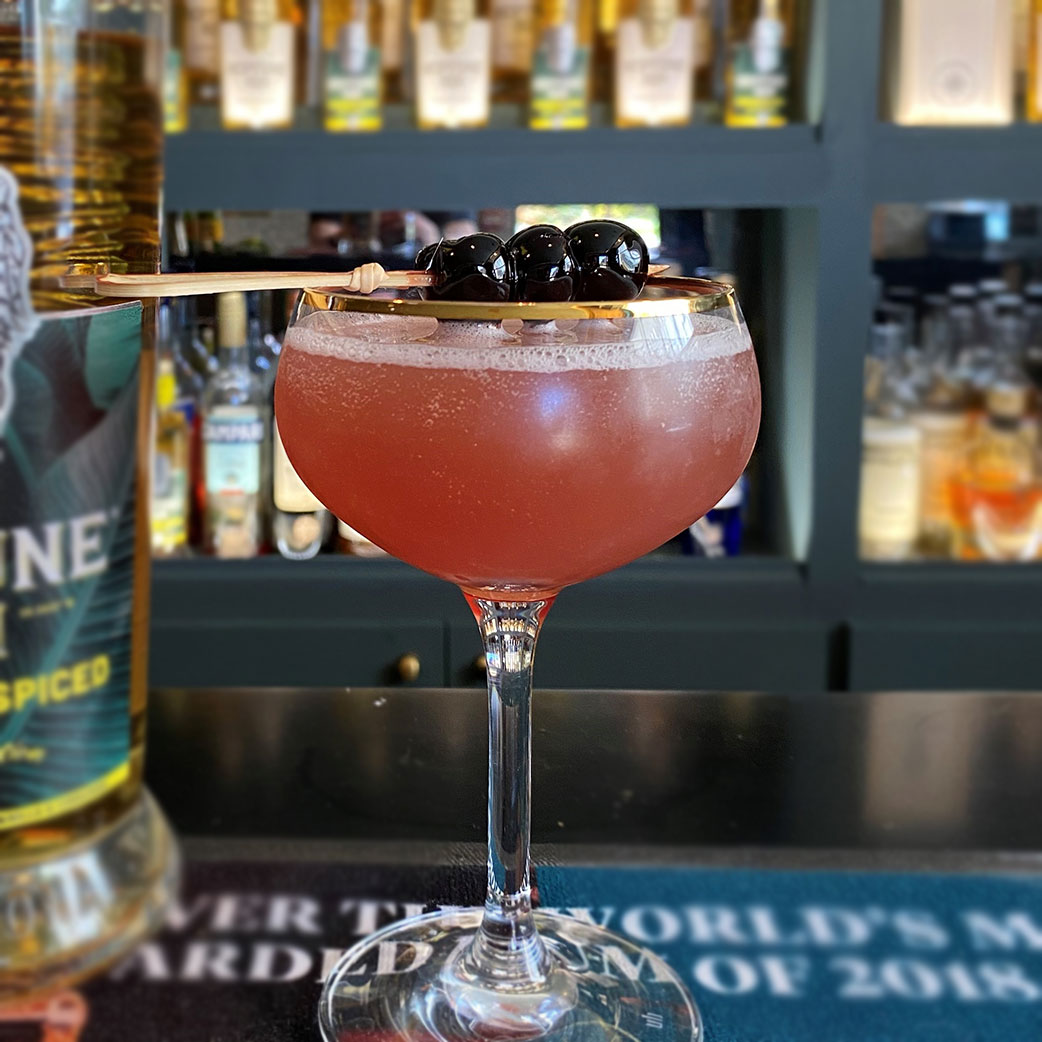 Ingredients
90ml Neptune Rum Caribbean Spiced
5ml Maraschino syrup
30ml GF juice
15ml Lime juice
Garnish: Maraschini Cherry.
Method
Its known as the Papa Doble for good reasons as it twice the size of a regular cocktail !
Put all ingredients into the shaker with ice, shake for 10 seconds
Strain and serve (with or without some crushed ice to suit.)
D

ecorate with garnish.
4. SPICED HONEY PUNCH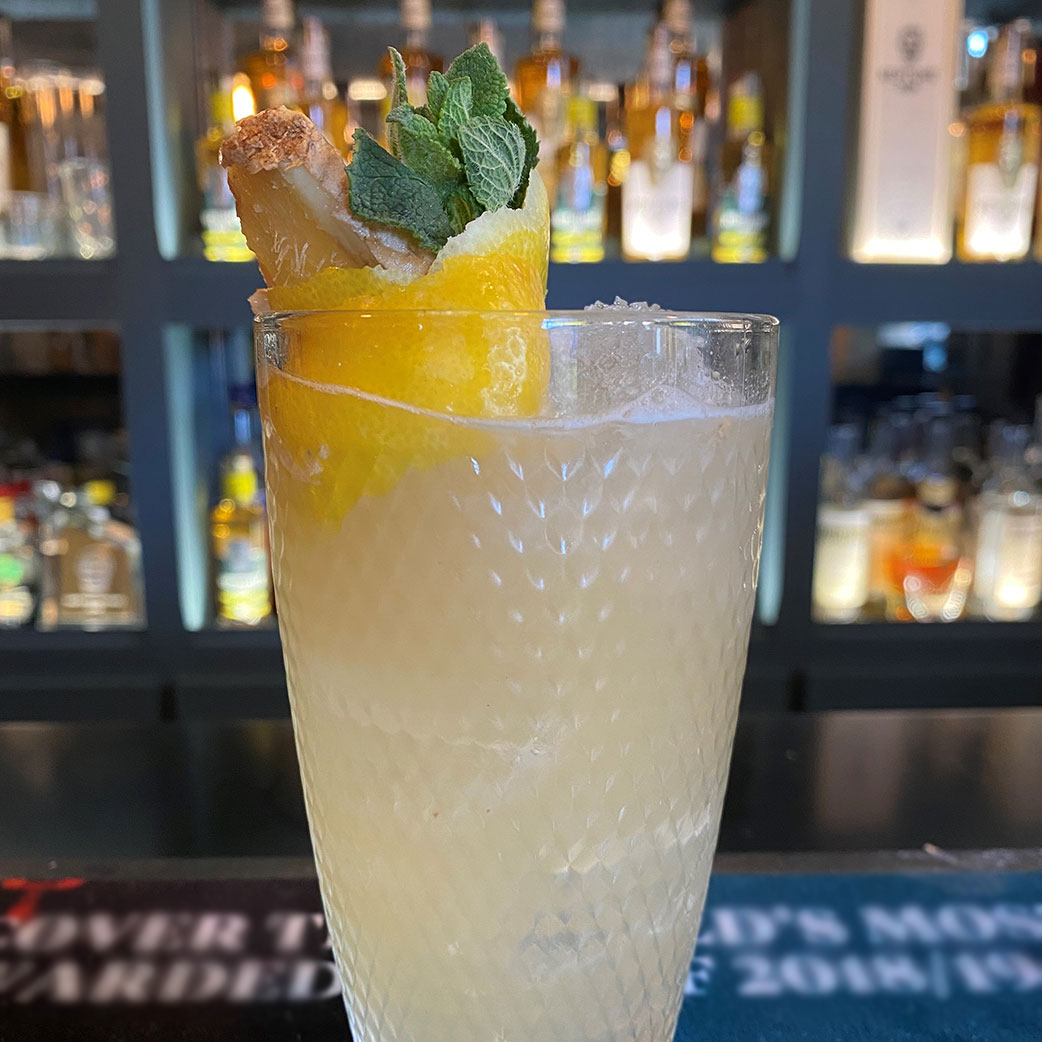 Ingredients
45ml Neptune Rum Caribbean Spiced
100ml Grapefruit juice
50ml Lemon juice
7.5ml Honey syrup
Garnish: Fresh Grapefruit, Peach and Mint.
Method
Place all ingredients into the shaker with ice, shake for 10-15 seconds
Pour straight from the shaker
5. SPICED MOJITO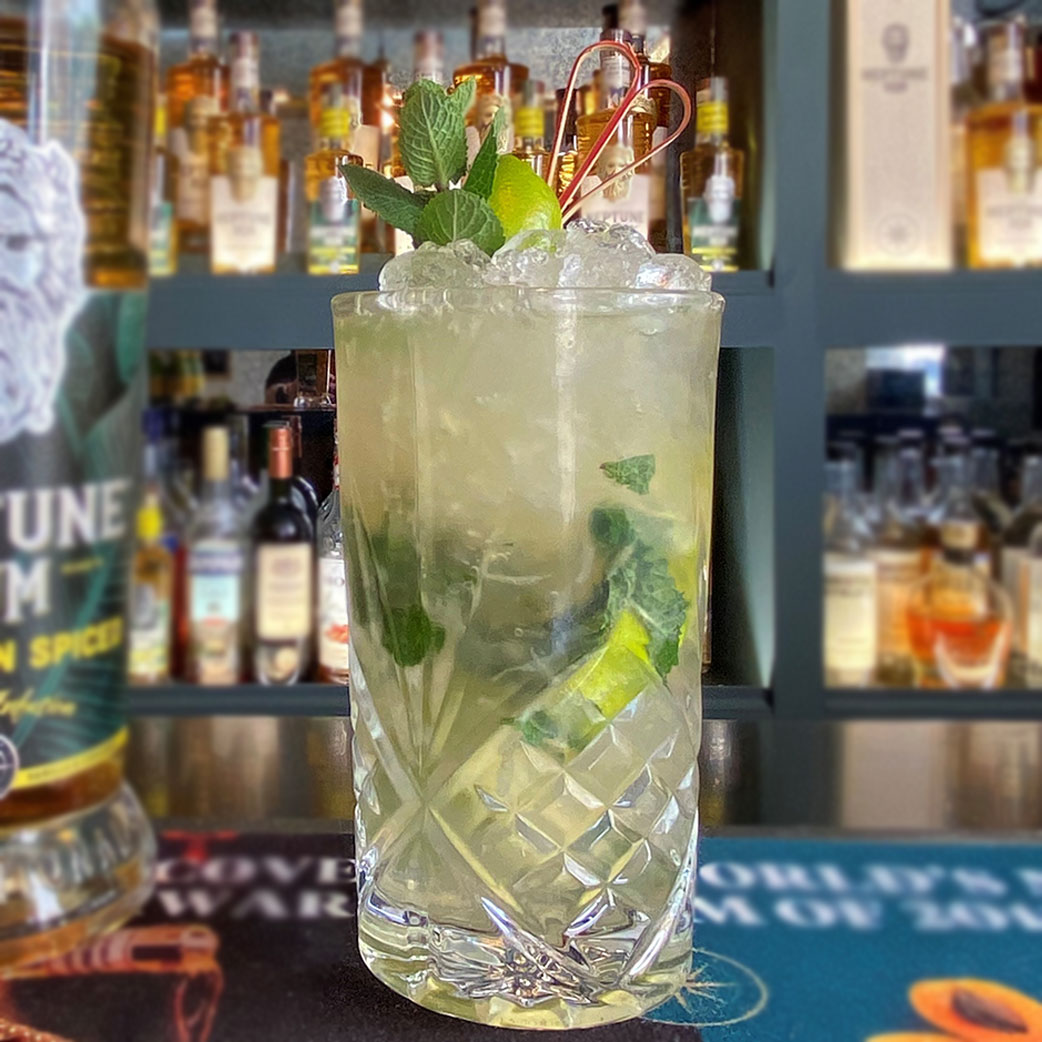 Ingredients
60ml Neptune Rum Caribbean Spiced
4-6 Limes juiced
1tsp Sugar (White Granulated)
8-12 Mint leaves
20ml soda
Crushed ice.
Method
Pour the lime juice into the glass

Add the sugar and stir until it dissolves in the lime juice. (If using freshly chopped limes instead of lime juice, crush them with the sugar using a pestle until the sugar dissolves.)

Clap the mint leaves in your hands to wake them then add them into the glass, it should be loosely full of mint

Pour crushed ice over the mint leaves to fill the glass

Using a spoon, stir the ice with the mint and lime until the mint starts to break

Add the rum and stir until evenly mixed and the ice is slightly slushy

Add 20 ml of soda

Serve with a sprig of mint on top.