NEPTUNE RUM BARBADOS GOLD BOTTLE DESIGN WINNER
Neptune Rums is delighted to announce that its Super-Premium Barbados Gold rum was awarded Silver at The World Rum Awards 21 in the Best Bottle Design Category.

ABOUT THE WORLD RUM AWARDS
The World Rum Awards are the global awards selecting the very best in all the internationally recognised styles, award and promote the world's best rum to consumers and trade across the globe.
The World Drinks Awards select the very best in all internationally recognised styles of drinks. Presented by TheDrinksReport.com, the world's no.1 online resource for drinks professionals.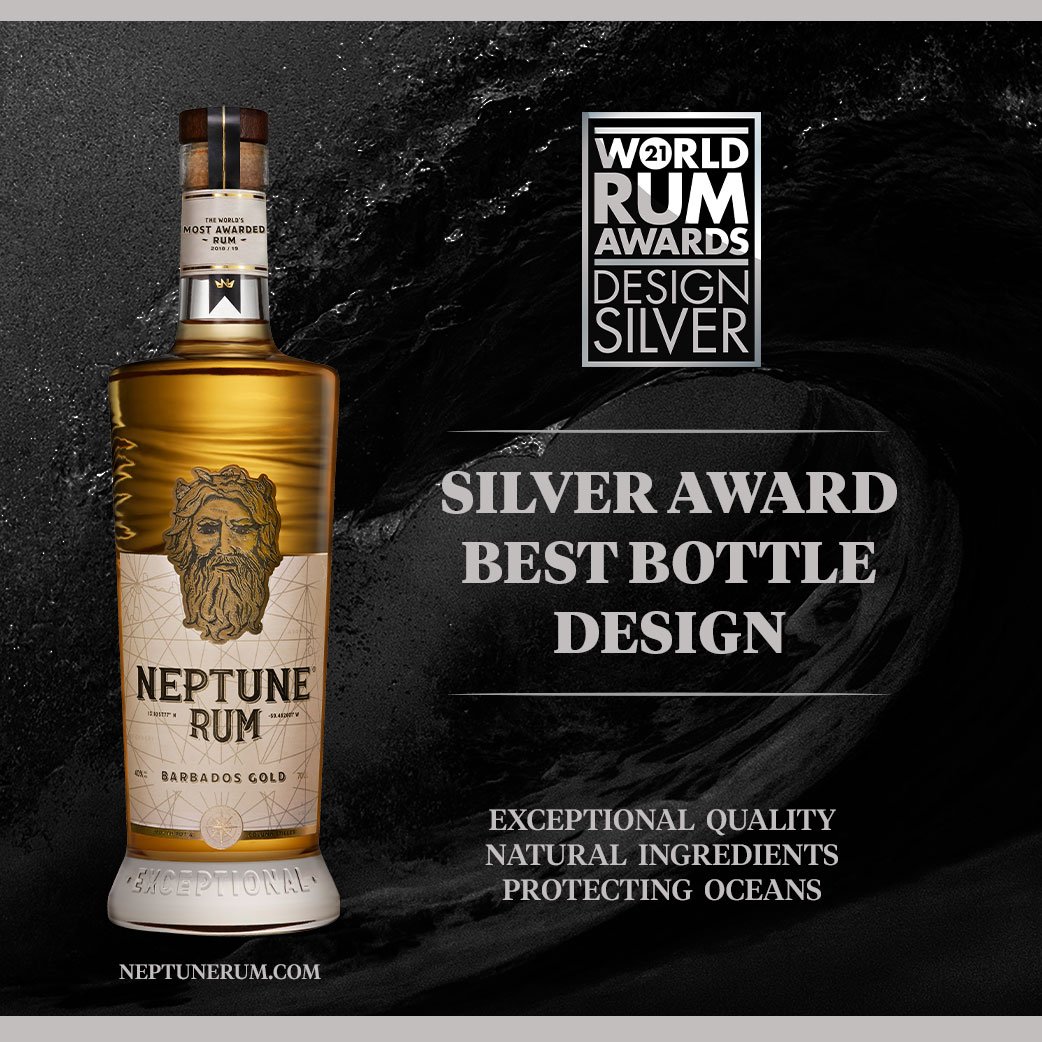 THE JUDGING PROCESS
The taste judging is held in three rounds.
Round 1
Each rum is tasted in its relevant style to identify and select the style winners. Judges making up the World rum Awards panel include international, leading journalists, specialist drinks retailers and industry experts.

Round 2
Style winners are tasted against each other to identify the 'World's Best' rum in each category.

All DESIGN judging is conducted by a panel of leading international design experts.
OVER 70 GLOBAL AWARDS
Find out more about our enviable list of awards, including Best British Rum Brand,
Best Barbados Rum, and Super-Premium Gold winners at The Rum and Cachaça Masters 2021.
ABOUT NEPTUNE RUM
Neptune Rum is focussed on creating truly exceptional quality rums from Barbados and the Caribbean – The birthplace of Rum.
By combining the finest natural ingredients, centuries-old distillation methods and tropical aging, our rums deliver an exceptional drinking experience. Due to our focus on exceptional quality and natural ingredients, our rums have earned their place amongst the world's greatest rums with over 70 global awards.
We are inspired by the Roman God Neptune, god of water and seas and are focussed on supporting the clean-up of the world's oceans around the world.